Original Xiaomi 20000mAh 3rd Gen Power Bank
Buy Original Xiaomi 20000mAh 3rd Gen Power Bank 20000mAh Xiaomi Power Bank 3 Mi Power Bank 20000 mAh Pro PLM07ZM with Triple USB Output USB-C 45W Two-way Quick Charge Online Lowest Price In Sri Lanka. Only Quality Products. 7 Day Replacement Guarantee. Pay by Cards, Ez-cash, m-cash Or Cash On Delivery
Power Bank Cheap Power Bank 20000mAh Xiaomi Power Bank 3 Mi Power. We offer the best wholesale price, quality guarantee, professional e-business service, and fast shipping. You will be satisfied with the shopping experience in our store. Look for long term business with you
Specifications:
Output Interface:

Triple USB  

Type:

Emergency / Portable  

Is LED Lamp Illumination:

No  

Supports Solar Energy:

No  

Output:

12V/1.5A  

Battery Type:

Li-polymer Battery  

Support Quick Charge Technology:

Two-way Quick Charge  

Quality Certification:

MSDS,CCC  

Size:

153.5 x 73.5 x 27.5mm  

Input Interface:

USB Type C

Product Name:20000mAh Xiaomi Power Bank 3 Mi Power Bank 20000 mAh Pro PLM07ZM with Triple USB Output USB-C 45W Two-way Quick Charge
Package Size:18.0 * 10.0 * 5.0 ( cm )
Gross Weight/Package:0.52 ( kg )
Technical Specifications: 
Model number: PLM07ZM
Battery type: rechargeable lithium-polymer battery
Battery energy: 74Wh 3.7V 20000mAh
Rated capacity: 12600 mAh ( 5V5.4A )
Input interface: USB – C
Output interface: USB – A / USB – C
Input parameters: 5V3A / 9V3A / 12V3A/ 15V3A / 20V2.25A
Output parameter: 45W MAX
USB-A ( single port ): 5V2.4A / 9V2A / 12V1.5A
USB-A ( dual port ): 5V3A
USB-C: 5V3A / 9V3A / 12V3A / 15V3A / 20V2A
Three ports: 5V5.4A / 9V3A / 12V3A / 15V3A / 20V2A
The working temperature: 5 ℃ ~ 40 ℃
Product size: 153.5× 73.5× 27.5 mm
Charging time: 11 hours ( 5V/2A charger, charging line in a package )
About 6.5 hours ( 18W charger, charging line in a package )
About 4.5 hours ( 45W charger )
Compared with the previous generation models, it costs slightly more. But the Xiaomi Mi Power Bank 3 20000mAh comes with a one-piece shell and the surface texture employs UV painting treatment. The top and bottom are made of ceramic using a high-gloss technology. It is very solid, and it's not easy to scratch. This simply means you have no reason to worry about scratches when charging various products, such as smartphones, computers, cameras, etc.
The Xiaomi Mi Power Bank 3 20000mAh high version has a capacity of 74Wh (3.7V 20000mAh) and a 5V 5.4A output rated capacity of 12600mAh. Shortly, it can charge a 3000mAh battery of a smartphone 4 times. There are two traditional USB-A female ports and one USB-C port. The USB-A single port can provide 5V/2.4A, 9V/2A, and 12V/1.5A output power. The dual-port can work at the same time to provide a 5V/3A output, which is suitable for fast charging of smartphones supporting Qualcomm QC. Say, it can give the Mi MIX 2S a full charge four times and the iPhone 8 a full charge seven times.
The Mi Power Bank 3 will come with USB-C 45W two-way fast charge with a big capacity of 2000mAh and three outputs. The device's USB-C interface can act as both input as well as output, delivering power of bidirectional 45W MAX.
The USB Type-A single port delivers 5V/2.4A, 9V/2A, 12V/1.5A fast charge, but it provides a 5V/3A output when two charging ports are active simultaneously. In terms of safety, the 20000mAh Mi Power Bank 3 features surge protection, short circuit prevention and a slew of other advanced safety features.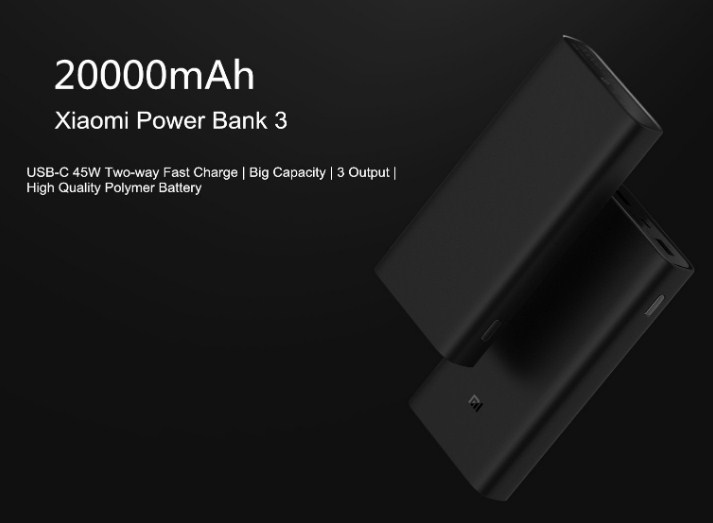 Aside from charging the mobile phone, it can charge the USB-C interface of Xiaomi's notebook, Macbook as well as Switch. The 20000mAh Mi Power Bank 3 is designed according to the GB/T 35590-2017 standard has gone through the inspection items of appearance identification.
Xiaomi claims that the Mi Power Bank 3 Pro Edition gets fully charged in 11 hours when charged with a standard 10W charger; however, by using the 45W-supported power brick, the charging time can be lowered to just four and a half hours.